Fiction
COMFORT ME WITH MALUS
(2009)
70,000 words
What begins as an innocent game of King of the Castle among a group of ten-year-olds develops into something far more sinister as the children team up and devote themselves exclusively to their new junkpile venture. As the game grows more intricate and the stakes increase, the children find themselves caught up in a web of violence, deception, and propaganda.
_________
A BATON FOR PHOEBRE

(2005)
49,000 words



Phoebre is running a relay when her baton abruptly transforms into a stick of dynamite and detonates in her hand. She awakens in a hospital only to discover that a nurse intends to saw her other arm off. This proves to be the first and least of her problems as she sets off with an inexplicable obsession to recover her missing baton.
_________


LOU BLUE

(2002)
93,000 words
Written almost entirely from the perspective of a lobster, Lou Blue charts the life of lobster Lou from his birth and subsequent turbulent romance with the lobster Lubita to his quest for the breaching sperm whales to his spiral into disillusion and despair when reality intrudes upon his illusions about love.
_________
HEPHAESTUS 

(1998)
82,000 words
My first novel, which I should instead perhaps refer to as my first effort at a novel. The first three quarters of the novel is an autobiographical account that takes place in Maine and California. The final section, set in New York City's Upper East Side, shifts into fictional territory and includes a phantasmagoric play. The passage included below is from this play, which is one of the few places where the writing is tolerable enough to merit excerpting.
_____________________________________________________________________
FOURTH FICTION
"Survival of the Fictionest"
**You can now read the Complete Season of Fourth Fiction HERE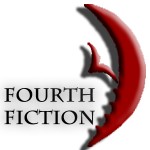 Fourth Fiction was a blog-based literary reality show that took place in the latter half of 2009 in which 12 contestants, writing pseudonymously, competed to complete a novella. On August 4th they each began writing a novella. Every ten days until Dec. 4th (on the 4th, the 14th, and the 24th of each month) the host, Constantine Markides, gave them a new literary guideline through a YouTube video for the next writing portion. At the end of each of these rounds, the readers would vote off one writer. The winning contestant survived the 12 rounds and completed the novella. The identity of the writers remained anonymous until the end of the competition so that the readers could judge the writers exclusively on the merit of their prose. Watch this video for an overview of the competition.
For more details and to read criticism and press about Fourth Fiction, see the OVERVIEW and the links below.