An Olympian Showing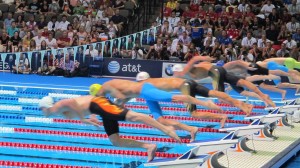 AT U.S. OLYMPIC SWIM TRIALS in Omaha this past June, a boy collecting autographs stopped a swimmer who was heading to the pool. "Are you fast?" the kid asked, holding his pen out. "Not yet," was the reply. The boy nodded and lowered his pen. The swimmer, the 2000 Olympic gold medalist Anthony Ervin, wasn't trying to evade an autograph. He'd given an honest answer, at least by his own estimation and standards: he hadn't made it past semifinals in the 100-meter freestyle the previous day, a disappointing result he was trying to put behind him before his next event, the 50 free, a one-length sprint across the pool. And put it behind him he did: the following day – twelve years after his last Olympic showing – Anthony went on to make the Olympic team, posting a personal best time that was also the third fastest in the world. After that, no one was asking him if he was fast. But many were asking him for autographs.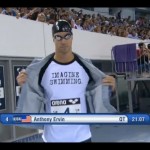 Four months earlier I'd flown out to Berkeley, California, and spent a week with Anthony, trailing him at his workouts and interviewing his coaches, trainers, and advisors. The resulting 8,500-word article was distilled to a biographic 1,800 piece that appeared a week before the Olympics in Rolling Stone (the issue with a "Hot, Ready, Legal" 18-year-old Justin Bieber on the cover). Along with some friends and colleagues from Imagine Swimming, the swim school that Anthony used to teach for and that now sponsors him, I also flew to Omaha for Olympic Trials and to London for the Olympics.
American pizzazz and hoo-ha was in full display in Omaha, with club-like strobe lights and green waterfalls of light and award ceremonies with gold medalists emerging god-like out of the ground on an elevating podium and ten-foot-flames that blasted up out of the deck after every record-breaking swim, giving off a heat that could be felt way up in the stands. No question, it was a hell of a show. The poolside experience in London, on the other hand, was a more minimalist and dignified affair (think Wimbledon vs. U.S. Open), where swimming and partying were confined to their proper places, the pool and the pub respectively.
There's plenty to recount from Trials and Olympics – watching a boy in Omaha who, after several minutes of nervous contemplation and goading by his sister, finally approached a breakfasting Michael Phelps only to pause a few feet from his table and sprint away in terror; being told in the VIP section of the London club Chinawhite that I had just unwittingly spilled half a drink down Ryan Lochte's shirt; freezing with fear after a blaring double decker bus that was barreling down a narrow London street came inches from flattening Anthony when he looked left instead of right before crossing (let no one ever accuse him of a slow reaction time) – but, as with the rest of the original 8,500-word article, that material is on hold for later down the line.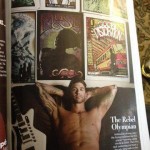 Instead I have some photos to show. The bulk are from Omaha, where I had a press pass and, as a result, closer access to the action. I have plenty of video clips too, and of some great races – the Phelps vs Lochte 200 I.M. among them – which I may post later, although one can find the same and better footage online. About half the photos are of Anthony and his races (at the end of the slideshow I also include a few training photos from Berkeley). If you don't know who he is or what his story is, the Rolling Stone piece, "The Rebel Olympian," will give you some background (to download a pdf of the full article click here).
Anthony placed fifth in London in the 50 free. He's now racing his way around the globe on a FINA World Cup Swimming circuit (the races are all short course meters, which means a 25-meter pool instead of 50-meter). Yesterday he won the 50 free in Dubai, posting a personal best time in a field that included some of the Olympic finalists and the event's current world record holder, Roland Schoeman. On Saturday Anthony races in Doha, and then tours on to the following destinations (art credit Frank Zio):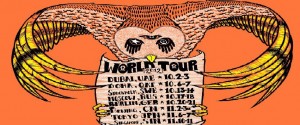 You can check out his Indiegogo fundraising campaign and video here. For updates from his swimming tour, follow Anthony's Facebook page. And, finally, as if I haven't thrown enough social media at you, if you like what you're reading, you can follow my monthly posts on the Fourth Night Facebook page and/or by a monthly email. As you can tell by clicking on the Essays header, this website covers random territory. The only constant is that I post on the fourth night of each month, which like right now occasionally spills over into the fifth morning.
On to the photos. Click on the fire to view the complete set: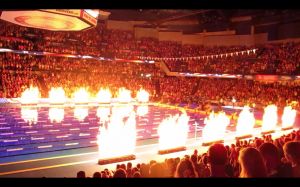 or to view as a slideshow CLICK HERE
Keep your feet off the ground, don't forget to smell the brine, and stay wet.
-constantine.

Similar Posts: