The Twelve Cryptograms of Christmas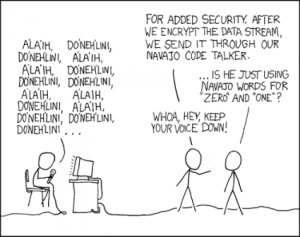 "Another experimental form in which [Joyce's] literary urge took … consisted in the noting of what he called 'epiphanies'; – manifestations or revelations.  Jim always had a contempt for secrecy, and these notes were in the beginning ironical observations of slips, and little errors and gestures – mere straws in the wind – by which people betrayed the very things they were most careful to conceal."
-Stanislaus Joyce writing about his brother James.
"Wherefore are these things hid? wherefore have these gifts a curtain before 'em? are they like to take dust, like Mistress Mall's picture? […] Is it a world to hide virtues in?"
—Twelfth Night, Shakespeare
"On the Twelfth Day of Christmas my true love gave to me…"
—"Twelve Days of Christmas" carol
I originally intended to post a Fourth Fiction "Outtakes" video today. But no longer under the duress of the Fourth Fiction timetable, I reverted during the final fortnight of 2009 to that luxurious state of languid, unhurried contemplation that goes by the ungenerous name 'idleness.' During this delicious spell of glorified vegetation, I realized not only that I'd be unable to finish the video by January 4th (the more correct word, I now know, is 'start') but also that the material warrants two videos: an Extras (unused footage) video, slotted for January 14th post, and a Bloopers video, relegated to a distant January 24th [out]post. In short, I'm doing my best to mothball any substantive writing. An opportunity for idleness is like bearing the Olympic torch: once it's been handed to you, just give your thanks and run with it.
Those who've glanced at the COCO 12 post in the last ten days know that the second part has been password-protected. For the password, you must follow the directions in the README file from COCO 12 (Part I). Many, possibly most, readers followed the cipher and decoded a message, but my guess is no one took Tess up on her hintness and double hintness in part II of COCO 12 and embarked upon any other cryptographic hunts.
There are twelve more messages. Just the mention that more exist should be clue enough to find the rest, or at least all but one of them. Anyone who can decode the Round 1 message, can decode the following eleven. Now that I've arranged the posts chronologically in Fourth Fiction: The Complete Season, the only thing that should impede a swift decryption is a slow Internet connection or an aversion to word games.
As for the twelfth message, it's wholly within COCO 12 (Part II). Just apply what you know. Fido can't help you dig up the bone, but he has the answer key, so you can corroborate your findings with him (*hintness*, as Tess would say).
In certain branches of Christianity, Twelfth Night is a festival concluding the Twelve Days of Christmas and heralding the Epiphany (yet another Christian feast day celebrated on January 6th that commemorates, for Western Christians, the manifestation of Jesus to the Gentiles through the visitation of the three Magi; for Eastern Christians, the revelation of God to man through the baptism of Jesus in the river Jordan; and for Joycean secularists, the sudden revelation one experiences upon pressing one's spouse for details about a previous lover). According to the Encyclopedia of Superstitions, "[o]f late years" (a phrase that should always be read with an eye on the date of utterance: in this case, 1948, the book's publication date) a belief arose that it was unlucky to leave tree decorations hanging after Epiphany Eve on January 5th.
Since today (for I have crossed midnight and am now in the early morning hours of the 5th) is the Twelfth Day of Christmas and tonight the Twelfth Night, this seems as good a time as any to allude to the Twelve Fourth Fiction Cryptograms of Christmas. Not to be superstitious or anything (it's a rule of vapid expressions that one must always add "or anything" after "Not to be [adjective-of-choice])" but I wouldn't want to jinx myself by leaving any chintzy Fourth Fiction decorations hanging around. For those put off by the Christian symbolism, just view this as some light cryptographic entertainment, which when decoded (and the only cipher you need for this is what Hemingway called a built-in bullshit detector) translates to 'cheapest way for Fourth Night to buy another Ten Days of Idleness.'

Similar Posts: