NORA 8
Nora's Round 8 Challenges (Word limit – 600):
* Incorporate a Walmart greeter or shopper  (given by Seldom Seen)
* Write about how humans would evolve with the collapse of religion (given by Joaquim)
* Incorporate satanic music (given by George Barbayiannis)
Read NORA 7 here (see "Similar Posts" at the bottom of this post for any earlier entries)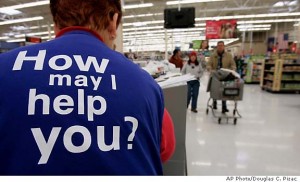 "Richard was born in the U.S.S.R. the year before Stalin came to power," said Arthur, his nostrils twitching over the glistening sausage links on his fork.
Nora gasped as Richard's upward-traveling toes found her inner thigh. She eyed his broad, upright, muscular form. "Why, you look not a day older than 50!"
"Sixty-nine, my dear, and not a year younger," Richard said, cocking a roguish eyebrow and slurping down an oyster as his toes circled upward under her dress towards her lotus.
"You can't imagine the life this chap has led," said Arthur, bringing the sausage to his mouth. "I daresay, had Richard been born in these United States he'd be president right now." Catherine's nipples snapped to attention as stiffly as #2 pencil eraser tips as she gazed helplessly at Richard, hypnotized by the slow, side-to-side, equine chewing of his powerful outthrust jaw.
Arthur smacked his greasy lips and picked up a steaming cob of corn. "Tell Catherine about your novels." His trembling nostrils explored the buttery cob before his teeth crunched ecstatically into it, spurting juices over Catherine's startled face.
"Arthur, please! Where are your table manners!" cried Catherine, wiping the creamy fluids from her face with her embroidered napkin.
Oblivious to Catherine's reprimands, Arthur groaned with closed eyes while moving the cob noisily across his mouth. "Richard, do tell," he urged, spitting flecks of corn. "Your latest manuscript."
Richard chuckled while peeling off his sock below the table. "Your husband thinks too highly of my hobbies." Catherine shuddered as the cool flesh of his toes touched her bare thigh and began sliding upwards. "I'm on the final chapter of my apocalyptic saga about humanity's fate in the absence of religion. Needless to say, the conclusion is catastrophic."
"Bloody brilliant is what it is," snorted Arthur, dropping the husk onto his plate. "Bloody Nobel-worthy if you ask me. If Obama gets a Nobel for merely saying he'll bring world peace, why shouldn't Richard get it for his near-complete masterpiece?"
"No!" Catherine gasped loudly as Richard's squirming nethermost digit burrowed beneath her undergarments and, like through a trap door to momentary nirvana, abruptly slid up to the knuckle into her moist chamber.
"Take no offence, Richard," Arthur chuckled. "Catherine plays by the rules. I daresay they need her on the Nobel committee."
Catherine grasped the table with both hands and bowed her head, whispering desperately. Richard began rhythmically moving his foot back and forth beneath the table.
"Why, look what you've done to my poor wife!" said Arthur. "All this talk about godlessness has got her praying!"
A vehicle screeched to a halt outdoors. "What in the devil?" cried Richard, disengaging his industrious foot. He dabbed at his lips with his napkin and proceeded to the window.
A truck with license plate SELSEEN had parked outside, blaring rock and roll music from the external speakers. A man in blood-stained camouflaged pants emerged, holding a Miller light, and began urinating upon the front tire. His pimply progeny hung out the back window, chattering like monkeys. "We aint never going to no WalMart again if you keep it up!" he bawled at them. "Once a day at WalMart is the rule," he bellowed, guzzling the beer as he shook his filthy member dry.
Without the slightest concern for his own welfare, Richard strode to the door.
"Richard!" cried Catherine.
Arthur stayed her with a raised hand. "Richard is a world class boxer."
Richard approached the uncouth man. "I advise you to immediately lower that satanic music and take leave."
"Who in the f**k do you think you are?" the brute growled.

Similar Posts: