COCO 8
Coco's Round 8 Challenges (Word limit – 600):
* Incorporate a glimmer of light / hope through the character of Frank (given by Kaylie Jones)
* Include an interaction with a wild Cyprus donkey (given by Vasia Markides)
* Incorporate a Brazilian girl named Renata (given by Renata)
Read COCO 7 here (see "Similar Posts" at the bottom of this post for any earlier entries)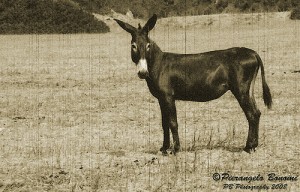 Young man nods his head when I ask if he's been to cabaret before. I put his hand on my leg. He is little shy so he doesn't move his hand around. Some old men squeeze half your zhopa before you even say hello how are you.
I am wearing tanga so I lift leg to make him excited and buy me drink (fake drink – 20 euros for small glass of grape juice). I begin to rub his arm while looking him in eye. Trick always is make man centre of attention. Not like you need prostitute to tell you that.
He is Shamus from Ireland. A writer who want to learn about cabaret life to tell world. Only tourist would say that. Cypriots anyway they don't write. They come only for the sex.
Shamus ask me questions for five minutes until Christos bring his beer. When he pay Christos doesn't give change right away. Its so dark some men don't know how much they give. But Shamus knows and waits for change so Christo finally gives it.
Drink for the lady? he asks.
I'll wait for now.
Christos walks off. I stand up. Have a nice day.
Few minutes later Svetlana goes and sits with Shamus. He buys her the drink. We all have to get certain number of drinks each week. Maybe Svetlana is better for talking to. It's competition here between women. Like in jungle with females all trying to get the male. Except we don't want sperma or protection. Only money. Which maybe is not so much different.
I sit next to Renata. She is redhead from Brazil. I don't know other Brazil girls in Cyprus and specially not in cabaret. But Renata anyway is different.
The bastardo! she says. He think he can write about cabaret life after few questions? Did you ask him about Ireland so you can write Irish history book?
She is very clever Renata. She have life in her. Not like some who sit empty with dead eyes like half naked Matryoshka dolls with no one inside.
I tell Renata about Stavros. To cheer me up she tells funny story about man who paid for her for whole two days once and drove her to golden sand beach in Turkish side. (I never had anything like that. The men they like Renata because with some she can show real pleasure. Me I can't. Even when I make orgasm I hide the look. This they can't buy from me. This I save.) On beach they saw wild donkey with penis long as his forearm. Silly man got so insecure he couldn't make sex that night!
I begin laughing so hard Yiannis tells me to go dance. They don't like it when we have fun. It is not real pole dance what we do. Just swinging around with one arm like child in playground. Here it is bordello not stripclub. Pole is just for pretend that cabaret is about looking not touching.
Frank walks in. I feel my heartbeat in my throat. But I can't leave pole. Natasha sits with him but not for long. After my dance finish Yiannis tells me Frank requested me.
I suddenly feel ashamed wearing thonga and clear platform heels. Maybe I am wrong but I think Frank is too. First time I feel shame in long time. I am happy for it. To be ashamed means to be conscious. Which means you are alive.
Coco…
My name isn't Coco.
Ok. Ivana. Want to join me on a little trip tomorrow?

Similar Posts: