TUCK 5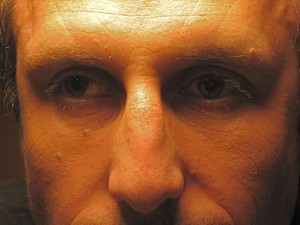 Round 5 Challenge: Incorporate this image into your next passage of no more than 500 words. You can interpret this challenge as you see fit.
*click on the thumbnail to see a larger image
Frank's local contact drove him to Limassol Divisional Police Headquarters. It was mid-August and the desert heat was ball-dripping. No wonder the region was so barbaric and backwards. Frank wouldn't want to be a productive member of society either if his gonads were swinging at his knees all summer. If he were a lesser man and had grown up in a climate like this he'd probably be strapping bombs to himself too.
As he expected, the police station was a shithole. He counted seven cockroaches. And that wasn't counting the cops. He'd have the department FedEx them a gift pack of Raid and a police manual.
"Welcome, Mr. Frank," the police commissioner said in nervous broken English. Like other Middle Easterners the Cyprian was short, dark, hairy, sweaty and reeked of cheap cologne and stale body odor.
"We're honored to have a professional like you on our island," he continued, extending a hairy hand and flashing yellow, stained teeth. The commissioner winced under Frank's firm handshake. "Unfortunately there has been an accident…"
Frank didn't flinch. When it came to third world police forces he always assumed a fuck-up.
"You see the—."
"—man who hung the dog has killed himself," Frank said, completing his sentence.
The commissioner stared at him with the awed stupefaction primitives have in the presence of individuals from more advanced societies. "But how could you have known about Stavros?" he stammered.
"I didn't get my job by the luck of the die," Frank replied. "Let's not waste time. Show me his photo."
The commissioner snapped his fingers at one of his lackeys, who lumbered over with a photograph.
"Take your time," Frank said dryly, snatching the photo. "It's not like the civilized world is at stake or anything." A cross-eyed big-nosed Germanic-looking asshole stared out from the printout. "You call this a goddamn Cyprian?"
The police commissioner glanced down at the photo and then took it back, reddening. He began yelling in his guttural language at his subordinates, who began flipping moronically through the photo images.
"Forget it," Frank said, with a dismissive wave. "Tell them to return to their coffee and backgammon. Take me to the hooker. If she's still standing after your boys' interview, that is."
The commissioner began to snigger but stopped upon seeing Frank's sober face. He cleared his throat. "Come with me, sir."
The Ukrainian girl was sitting on the cell bed in her lingerie. A used condom was draped carelessly over the edge of the corner trashcan. The swine. They didn't even know how to clean up after themselves.
She was a hot little slut. Hourglass figure, high cheekbones, shoulder-length, strawberry-blonde hair. A short-term investment with a big payoff.
"What's your name?" he asked her.
"Maria."
"Sure it is. And my name's Omar." Frank turned to the commissioner. "What's her name?"
"Coco."
Frank chortled. "Good name for a whore." He motioned to the door. "You can go now. I'll be questioning Coco in private."

Similar Posts: