TESS 5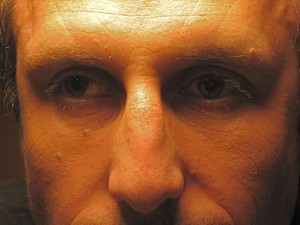 Round 5 Challenge: Incorporate this image into your next passage of no more than 500 words. You can interpret this challenge as you see fit.
*click on the thumbnail to see a larger image
It's lame how relationships only go so far anymore. Liz's asexual boyfriend broke up with her. He needed "space to figure out his life," which was such a teenage breakup lie that I laughed over the phone when she told me. That didn't help. I felt bad so I took the F-train to Fort Greene to see her.
It was the usual post-breakup healing session of red wine, red eyes and ragging on boys. I told Liz to be choosier. I said, "Your first mistake was picking a younger boy. Always go older."
I barely ever visited Brooklyn so the next morning I went for a stroll. The brownstones reminded me of the Upper West Side but hipper and less upscale. I found a cozy coffee shop called Tillie's where I started reading the *must read* Liz gave me, Female Brain.
A tall brownhaired boy came in and sat on the stool beside me. He had the latest Time Out, the sex issue: "your guide to getting off, in every borough." Please.
He smiled when he saw me looking at the cover. So sleazy. I was wearing my red skirt and he kept glancing from his Macbook down at my legs. That and at every girl's bum who walked by. He tried to be subtle but it was so obvious.
Finally, he leaned towards me and with this cocksure grin said, "Female Brain… Sounds like complicated reading." You could tell he thought the world of himself.
I said, dryly, "Very."
"Maybe you'll share one of its enigmas with my uncomplicated male brain?"
I was so fed up with these self-assured outgoing alpha boys. They were always only after one thing.
After a pause, I said, "Women have a larger hippocampus, which is responsible for emotion and reading expressions…"
He was staring at me and nodding earnestly, like I'd said something riveting. It was so transparent.
"…Our brains evolved that way to help us detect danger from larger, more aggressive cavemen. For example, my female brain is telling me to sit somewhere else." I grabbed my latte and purse and relocated to a table at the far wall.
Our neighbors had witnessed the diss so he didn't stick around long. I didn't feel bad. I watched his bum on the way out.
I returned to my reading. When I looked up, a man was sitting opposite me at the table beside mine. He was cupping his coffee, staring into space.
He must have been ten or fifteen years older than me. There was a brooding contemplation about him, a combination of intensity, sorrow, intelligence, worldliness and despair. He had a slight lazy eye, which accentuated his haunted expression. The eye seemed to look right at me, or more like through me, but he was so consumed in his thoughts he didn't notice me. I couldn't tear my gaze away. This was no boy. This was a man.
In that moment my hippocampus knew it. He was the one.

Similar Posts: