RHAE 5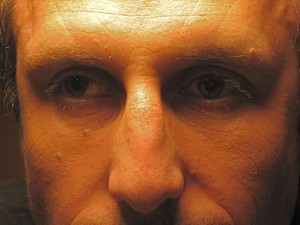 Round 5 Challenge: Incorporate this image into your next passage of no more than 500 words. You can interpret this challenge as you see fit.
*click on thumbnail for a larger image
4.
Mr. and Mrs. Smith of 33 Banks St. are the first Cambridge couple to disappear. Melanie first met Mrs. Smith three years earlier at her weekly weaving hologroup. In what was her first holographic projection, Mrs. Smith spoke as a guest instructor on the near-extinct craft of Lavar Kerman carpet weaving. Mrs. Smith had studied under the Persian master Farshid Kiyanfar a year before he was killed during the Iran War in the 2013 atomic strike by the private contractor Shield, formerly Xe, formerly Blackwater. Mrs. Smith's weaving virtuosity and collection of exquisite handwoven carpets awed the class. Most of them were still working on their first niqab.
(The veil-with-miniskirt combo entered the fashion mainstream when Iranian-French designer Aisha first unveiled her Niqab Series during the 2021 Milan Fashion Week. It offered over-privileged youth an outlet for undisruptive rebellious expression, making it popular on elite campuses like Harvard. Handwoven niqabs and skirts commanded even more respect).
The rise of holographic projection had allegedly redefined the preconditions for friendship and community. The three major holograph providers, which merged into one megacompany in 2018, heralded holographic communication as a revolution in human interaction. Genuine, face-to-face human exchanges, they claimed, were no longer geographically restrictive. Holoadvert catch phrases like "Why Be Lonely" and "End Global Loneliness" covered the airtrams. Within a decade, holography overtook cell phone communication as the industry standard.
Although Melanie conducts cutting edge genetic research, she lacks utopian technologic enthusiasm. She prefers "real-person" exchanges, as the unfashionable practice of meeting in flesh is now called. Also, she never shared her peers' retro-fetishist romanticization of weaving. Weaving is simply a meditative relief and creative complement to her lab work.
When Melanie learned Mrs. Smith lived in Cambridge she paid her a visit. Mrs. Smith took on Melanie as an apprentice, initiating her into the art of carpet weaving, while Melanie used her CloneLife connections to offer Mr. Smith – who suffered from degenerative eye conditions that had gone untreated ever since Medicare was abolished under the 2014 Freedom of Choices Act  – research treatment in opthamological gene therapy, CloneLife's safest experimental program.
Mr. Smith was among the first humans whose color blindness was reversed after an injection behind his retina of a gene that produces the color-producing protein L-opsin. Another experimental course cured his strabismic amblyopia. Mr. Smith joked his wife had unfairly pressured him to cure his lazy eye, which he'd always been fond of despite the degraded vision. Over the mantelpiece he kept a framed photograph of his younger self that displayed his stray amblyopic right eye.
No one knew exactly when the Smiths were first abducted because the elderly couple only left their apartment for Mr. Smith's bimonthly retinal gene injections. Melanie first discovered their absence when she stopped by their apartment on a late September morning to show Mrs. Smith her latest carpet with interwoven genome designs. She doesn't yet know that it is because of her helpful interventions that they are now dead.

Similar Posts: