NORA 5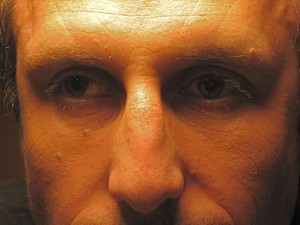 Round 5 Challenge: Incorporate this image into your next passage of no more than 500 words. You can interpret this challenge as you see fit.
*click on the thumbnail to see a larger image
"I lied to you," Arthur hissed, his punishing hand slapping the widely-spaced piñatas of her breasts. "I lied to you about Auggie," he repeated, emphasizing the revelation with a particularly violent thrust of his engorged manhood that drove Catherine face down into her goose-feather duvet. The right side of her face buried into the quilt's lush folds, muffling her shocked cries.
"I never hugged her at all," he went on, his muscular torso jackhammering away behind the steep downhill of her lower back. "You want to know what I did to her? Do you?" Arthur demanded, punctuating his question with a muscular open-palmed slap upon her abused rump.
With teeth clamped together and lips curled back in a delirium of agony, Catherine could not respond in words. Instead, she helplessly nodded her head. Arthur hooked his massive hands around her hipbone and began pitilessly yanking her pelvis back into his probing proboscis. With each stab his powerful buttocks flexed into two firm orbs of tightened muscle.
"I'll tell you," he said breathily, his voice deepening as he climbed towards his crowning moment. The sweat streamed off his angular face and coursed through the swarthy jungle of his Tarzan chest, dripping onto Catherine's snowy lumbar. In an unexpected gesture of tenderness amidst that heady aggression, Arthur released her hips to massage his body's natural oils into her feverish flesh, spreading a glistening coat over Catherine's rippling bubble-spheres.
"I didn't do anything to Auggie," he said, hoarsely, breathing hard behind her as he sandwiched her midsection between his powerful palms. "I don't touch my patients."
Arthur's voice was steadily growing more distant as Catherine soared towards previously unimaginable summits of ecstasy. At the cusp of extreme pain and ultimate pleasure, she could decipher only the slightest thread of Arthur's remarks: "What I need to tell you… what I've been meaning to tell you for months now is that…"
A rushing sound filled Catherine's consciousness as she abandoned herself to his savage conquest. Her moans, previously a bodily call-and-response with his lunges, had now fused into a single caterwaul that issued forth from her like the deep-throated, midnight mating wail of a street cat. With a groan of exhaled air, Arthur convulsed deep inside her, grunting primally in the ebb of his pulsating injections. He collapsed flat upon her back, the two of them shuddering in the seismic aftermath.
Catherine returned to consciousness to find Arthur planting kisses all over her neck. "I love you," he murmured, dragging the tip of his tongue up through the tiny erect hairs of her tingling back. "I knew you'd understand… I love you ever so madly…"
Arthur shifted his weight to the side. "No," Catherine murmured. "Not yet. Stay inside a little longer."
"I'm not going anywhere," Arthur whispered.  He reached to his bedside drawer and returned with a photo, which he held before Catherine's half-lidded eyes.
"Who's this?" she asked, staring at the purposeful, ruggedly handsome young man in the photograph.
"What do you mean? This is he. The man I just told you about," Arthur replied, snuggling against her and wiggling his hips. "Richard. My lover."

Similar Posts: