COCO 5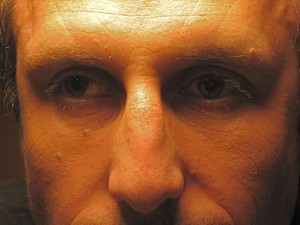 Round 5 Challenge: Incorporate this image into your next passage of no more than 500 words. You can interpret this challenge as you see fit.
*click on thumbnail for a larger image
There is black cloud suddenly over his face and he turns away. I know now something is wrong.
Sometimes he make me coffee or food on veranda first but not this time. I follow him to bathroom. He say to leave light on. Usually we go to bedroom with metal shutters down and candles for light.
I put on spike heels as he undress. In sink is rope and the ducktape.
Are you sure you want to lie here? I say. Floor is filthy.
What did I say? he say angry. Ate Maria! Tie it tight. Ate!
He is shouting. Now I want to tie him because of bad feeling I have. I tie his wrists ankles arms legs everything. I tie hard and make knots too much strong. Then I tape around his head three four times to shut his mouth. That way neighbours don't hear cries.
First he lie on stomach and I step all over until he's covered in red marks. Then he rolls over. This part is more pain for him. I step up on his legs then up zhopa to his belly and chest. He has tears now but eyes don't show pain. Normally they pop out now.
Normally for me its okay doing this. Everyone have different pleasure. But this time feels bad. I can see when man has darkness inside. The bright bathroom light give his face yellow colour and make shadows under eyes. But most scarey is his eyes. Something dark and still in them. Too much dark.
I see many eyes of men because many try look at you when they make sex. Some hope your having pleasure and some want to see pain. Depend on man. I know how to make face they want to keep them coming back. Dangerous man always is who's eyes don't change. Like two marbles of ice. Stavros have this now. Like he's accepted he deserve punishment so he's calm in his suffering.
Even when I pinch his nose shut (he like suffocation) his eyes don't change. Even his body start shaking first. That's when my foot slips. The spike slides down side of his stomach and rip skin off. Not dangerous but horrible still.
I panic little and try to remove tape from his mouth but he jerk head away like he want tape on. So I clean with hot water. Finally bleeding stops but blood is all over floor. I go to balcony for mop.
I don't see poor Frodo right away but when I do I almost collapse. For moment I can't breath. Frodo is tied dead to closeline hanging between Stavro's socks from his paws.  And then I scream and scream and scream. All horror of my life is there. Like nightmare that come alive. Like message from God that its not Frodo hanging there but me. Although if God allow such things maybe his messages don't deserve hearing.
I run out to street. That's where police find me.

Similar Posts: