First Blog-Based Reality Show to Launch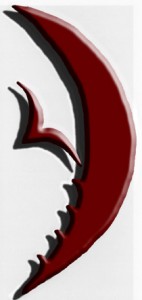 Do you wish you spent more time reading books and less online? Do reality shows repulse you and yet, like a dung heap to flies, invariably draw you in? And if you do extricate yourself for a few moments from all devices luminous, does your shoulder devil soon whisper you back to a screen? If so, perhaps it's time to stop resisting and instead put your reprehensible addictions to the service of your unrealized aspirations.
How? For the last few months I've claimed, with scant details, that something novel would soon be underway at Fourth Night. The time has come to announce it: on July 4, the four-year anniversary of Fourth Night, this website will host a blog-based, literary reality show—the first of its kind, as far as I know.
The premise is simple. As in elimination-style reality television, there is a host (me) contestants (twelve writers) and judges (you, the readers). Each of these twelve writers will embark upon a novel that will be published in installments on Fourth Night for as long as that particular contestant remains in the competition. Three times a month—every 4th, 14th, and 24th—I'll announce the literary guidelines for the next installment, which the writers will all have to complete before the readers vote to eliminate one of them. Every time I announce the next criteria I will also name the newly eliminated contestant. On December 4th, the competition ends, with one writer having survived all twelve rounds and completed a novel.
This blog-based reality show—which will go by the name Fourth Fiction—will launch, as I mentioned, on July 4th. However, the actual competition, with its rounds of literary challenges and elimination voting, will not begin until August 4th. Over July, the twelve contestants will only post on Twitter.
(Anyone who is unfamiliar with Twitter—a free micro-blogging and social networking service that allows users to send and receive text-only updates known as 'tweets' of up to 140 characters—can get a sense of it by looking at my Twitter profile page. You don't need to sign up to access Twitter profiles; you only need to open an account if you want to tweet.)
The twelve contestants will each have an individual Twitter page and will tweet at will for one month. This pre-competition, warm-up month gives readers an opportunity to acquaint themselves with the writers. As a text-only medium amenable to anonymity, Twitter is ideal because, unlike other reality shows, the identity of the contestants (who've all pledged secrecy) will remain hidden until the end of the competition. The anonymity is so that they're judged not on how they look but on what they write.
I'm currently in contact with several independent publishers whom I approached at Book Expo America last weekend. It is my hope that one of these publishers will fund a limited publication run of the winning writer's novel. Regardless, the contestants have all agreed to participate in the competition with or without a publication contract for the winner. In our viral era, making a media splash is more valuable than publication (after all, with the rise of print on demand, who can't publish nowadays?).
I won't pretend at munificence. I struggle enough with supporting my own writing, let alone pitching it, so I'm obviously not hosting this literary competition out of charitable impulses to bring recognition to other writers. I am primarily doing it to drive traffic to my website and elevate my own public profile (and as a side bonus, admittedly, to free me up from Fourth Night essay writing so that I might complete my current novel-in-progress). A former roving luddite, I've come to learn the hard way over the past decade that if you are not a reputed writer like Pynchon or Salinger and you shun your inner Paris Hilton, you destine yourself to literary obscurity.
(I recently spoke with Richard Russo at Book Expo America and asked him if he's ever considered integrating fiction with the Internet and social media platforms. He shook his head and said he's something of a dinosaur when it comes to these things. "I am too," I replied. "It's just that you can afford to be one and I can't.")
Finally, I'm also hosting this blog-based reality show because it should be a hell of a time: for the readers, for the writers, and especially for me, since I get to dictate the rules of engagement. I usually play dictator only in my own fiction, so this is a rare opportunity to be totalitarian in real life, assuming of course we aren't such dogmatic cynics that we refuse to acknowledge there is any reality in reality shows.
The individuals whom I approached online and in-person to compete are a colorful and varying bunch. They were selected not so much for the eloquence or polish of their prose—some of them in fact have never written fiction—as for the idiosyncrasy of their voices, which should be sure to amuse, inspire, disturb and outrage.
By subscribing to the free email updates or the RSS feed (if you use an RSS reader) you can keep informed with the goings on. The more readers who comment and vote, the more successful this literary reality competition will be. So please spread the word to your friends (both in the flesh-and-blood world and the social media world of Facebook & co.), to your followers (whether you are a cult leader or a tweeter) and to your coworkers (after all, how many reality shows do you know that you can follow at work?).
Fourth Fiction should be quite the spectacle. As the host, I don't intend to be a compassionate softy. The contestants know what they're getting into. Expect manipulation, voyeurism, backstabbing, exhibitionism, sexual gratuitousness, pettiness and exploitation; in short, the stuff that makes reality shows a beloved staple of 21st century culture.
————————–
NEWSPAPER ARTICLES on Fourth Fiction:
I'm a writer, get me out of here! – Cyprus Mail, Aug. 23, 2009
Literary Big Brother – (In Portuguese) O Tempo, Aug. 13, 2009
Online Big Brother Challenges New Writers – (In Portuguese) Folha de S. Paulo, Aug. 6, 2009
BLOG REVIEWS of Fourth Fiction:
Fourth Fiction: The First 10 Days
Fourth Fiction: Yet Another Literary Show
Survival of the Fictionest (in Russian)
Первое реалити-шоу в блоге (another review in Russian)
Fourth Fiction Update (Round 1)
CRITIQUES of Contestants' Writings
Fourth Fiction Round 4 Lit Crit Part I and Part II
Fourth Fiction – First Impressons (Part 1)
Fourth Fiction – First Impressions (Part 2)
Fourth Fiction – First Impressions (Part 3)
Similar Posts: